Click to see photos of our October 2017 concert!
The Lexington Music Club is a group of musicians and music lovers in Lexington, Massachusetts, who love classical music and want to perform music for interested friends. We plan and perform concerts in one another's homes. Many members are from Lexington, and others come from surrounding towns, like Bedford, Belmont, Waltham, and further afield. Originally, a prospective member had to perform at a concert before he or she could be a full-fledged member, but now we welcome listeners as well as performers. Club dues are $20 a year.
Many of us are classically trained. Some of us teach and perform  professionally. Others are devoted amateurs. Many members are pianists, but there are also string and wind players and composers, so our concerts have a variety of chamber ensembles.
Concerts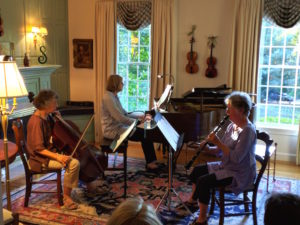 We give concerts in members' homes 5 or 6 times each season, from September to June. Our season often includes a  public concert too. To accommodate different schedules, some of our house concerts are on weekdays in the morning and others are on weekend afternoons. One of our meetings is traditionally a potluck dinner. We're starting off 2013 with the potluck in October.
In recent years, we've revived our public concerts, most recently scheduled for February, at First Parish Unitarian in Lexington. The community can hear the spirited music making and wealth of talent of our members and guest performers. In the past, the Lexington Symphony Chamber Players and the Duo "2", flute and harp, have played on the public concert.
Concerts last about an hour and, depending on the time, refreshments are available either beforehand or afterward. For unknown, probably historical reasons, weekday morning concerts begin with refreshments, but afternoon concerts start with music. Make sure you're on time for those afternoon events!
How the club operates
Our Board includes President, Treasurer, Secretary, Membership Chair, Hospitality Chair, Webmaster, and Program Technician. The Board meets sometime in the summer to plan the season, setting dates and assigning jobs.
Members, especially those with grand pianos, volunteer their homes for concerts.
Members serve as program coordinators, collecting a list of performers and music for a particular concert and planning the concert. The program coordinator gathers a program together from club members who have something ready to perform. The coordinator might also invite guest performers.
Members also handle hospitality, coordinating with the host to plan refreshments, and getting volunteers to bring food.
In the Community
The Club sponsors scholarships for Lexington High School graduating seniors who have done well in the music program and plan to continue with music studies. The scholarship money comes from dues and donations, including money raised at our public concerts.